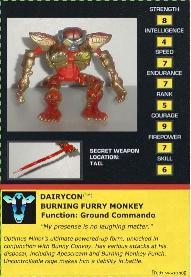 Click to see the full-size Tech Spec!


Allegiance: Dairycon
Name: Burning Furry Monkey
Function: Ground Commando

Quote: "My presense is no laughing matter..."

Profile:
Optimus Minor's ultimate powered-up form, usually unlocked in conjunction with Bunny Convoy. (Bunny Convoy becomes Frigid Bunny Convoy). Called "Burning Furry Monkey" because of the red fire his body fur takes on. BFM was recruited by Electrum Beast, though itís not clear exactly where/when he was pulled from. Together, BFM and FBC are able to dispose of Crackup.

Abilities:
Burning Furry Monkey has various attacks at his disposal, such as ApeScream, Firetail, and the signature Burning Monkey Punch. His powers and abilities are amplified for the duration. With his on-again off-again partner Hotstuff, he can combine his firetail to create the blazing scimitar.

Weaknesses:
Because of the tremendous energy drain required for his existance, Burning Furry Monkey doesn't appear except in times of extreme crisis. As Optimus Minor, he is weak and ineffective at best. At worst, with his uncontrollable rage, he is a disaster waiting to happen; A liability for anyone hoping he'll save the day.
| | | |
| --- | --- | --- |
| | &nbsp&nbsp&nbsp&nbsp&nbsp | |