Click to see the full-size Tech Spec!


Allegiance: Dairycon
Name: FlatFoot
Function: Law Enforcement

Quote: "Thank you for your Cooperation!"

Profile:
"Freeze, lawbreaker!" are usually the first words out of Flatfoot's mouth. A no-nonsense, strictly by-the-book fellow. Has the entire Cybertonain Codex committed to memory. A true law-man's law-man. Despite this, Flatfoot is, by all accounts, an enigma. He is one of the very few Transformers who hates change. This can most likely be attributed to his forced 'transformation' from a vehicle alt mode (a changeform style which, ironically, was stolen by Bailjumper to commit crimes at The Leader's discretion) to his current Beast form. Refusing further change until his vehicle form is restored, Flatfoot prefers to remain in his animal mode. As a former Autobot Patrolman (and rumored member of the Cobalt Sentries) he continues to serve the cause and protect in his role as advisor to Bunny Convoy, offering advice and wisdom when needed. Unflappable calm. When others lose their way, Flatfoot is there to steer them back in the right direction. Commands respect in any situation.

Abilities:
Sensors pick up the weakest radio transmission. Constantly tuned in to the police bands so that he can rapidly deploy to the trouble spots. In vehicle mode, lights and sirens cause disorientation in his enemies. Armed with a semi-automatic laser pistol and a CO2 shotgun. In beast-mode, sensors allow him unprecedented ability to track his opponents. Eyes can fire 9mm lazer bullets. In robot-mode, equipped with an electromagnetic shield, and energon-cuffs.

Weaknesses:
Sometimes overlooks the big picture in his efforts to enforce the smallest rule. Easily upset by human youth, especially in their wild defiance of any authority. Has been vandalized more than once while giving a lecture to inner-city ruffians. He once stopped mid-speech to find that he was up on blocks with his engine and tires missing. Flatfoot doesn't feel he can best serve the cause in his current beast configuration. He longs for his previous vehicle-mode. Is resentful for having been maximized; this interferes with his normally even-handed judgement.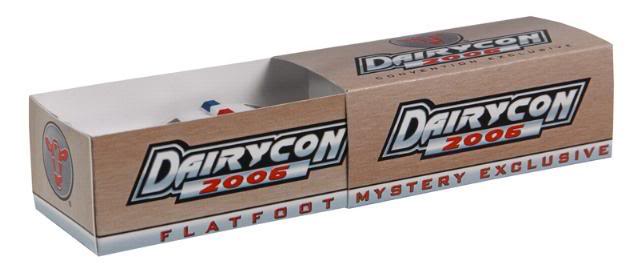 Notes: FlatFoot came blind-boxed in our classic 'mystery box'. That is, you didn't know if you were going to get the car, or the beast. :-)