Allegiance: Dairycon
Name: Agent Orange
Function: Incompetant Buffoon of the Apocalypse

Quote: "I will destroy you all."

Profile:
Once a competant enemy, AGENT ORANGE became tangled up with TINDERTRON. As a result, he spent most of his days interfacing with pornbots in the cybertronian dead zone. Disgraced, he was reassigned to earth. Current assignment is to root out and destroy all soy infected Dairycons, so the disease doesn't spread. Probably already too-late, as Botbots have broken loose into the main continuity. Can be found skulking around Blackrock's Carwash of Doom.

Abilities:
Self Agrandisement. His finishing move, DumpsterFire, is both his signature move and his trump card in a fight. Has been clocked at an obsene forty lies per minute. Able to make up any lie no matter how preposterous on the spot and make you think he actually believes it. Claims to have invented a large coffee, or as the humans call it, Coffvefe Bigly.

Weaknesses:
McDonald's. Burger King. Wendy's. Pizza Hut. Kentucky Fried Chicken. Taco Bell. All fast food really. Grammar. Spelling. English. Reading. Addition. All math. The spoken Word. Geography. Anything science related. Facts. Foreign policy. Domestic policy. Public relations. Believed not to be a functioning adult. Unable to dress himself properly. Suffers from frequent tantrums. Flunked recess due to bone spurs. Has a deeply disturbing fetish for walls. Possibly under indictment very soon.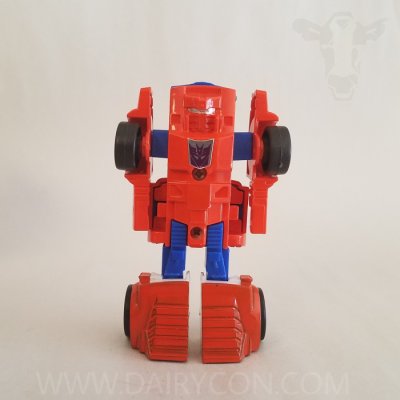 Vehicle Mode | In Package