Allegiance: MOTU
Name: Stinkrod
Function: Evil Master of Odors

Quote: "Pee-yew!"

Profile:
Given the multiple different modes of his frame, it comes as a shame that STINKROD is essentially a humanoid skunk. His superpower is the ability to release a toxic odor from his body that renders foes immobile. And friends. And himself, necessitating the use of breathing equipment. Ain't he a stinker? Unfortunately, yes. And he can't ever turn it off.

Abilities:
STINKROD can provide multiple delivery options to his powerful odor. As a winged skunk, he can fly to the site of battle and coat the entire area from the air. As a TargetMooster weapon, he can shoot it into enemy territory with pinpoint accuracy. And as a dragon, he can blow it onto opponents in the form of fire, melting the smell into them and burning them in the process.

Weaknesses:
Unfortunately, despite his versatility, no-one wants to partner with STINKROD due to his smell. It's bad enough that just walking around headquarters knocks out his allies. Even he has to wear a mask to stand himself. Assigned to a remote outpost far, far away from everyone and anyone. It's for the best.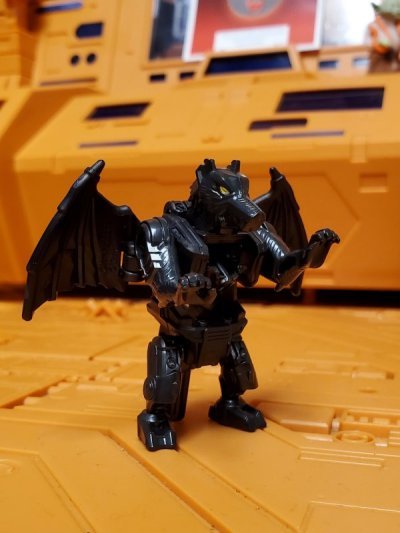 Alt Mode
|
Weapon Mode
|
In Package (Front)
|
In Package (Back)