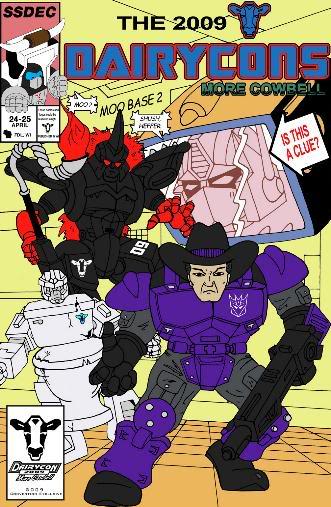 Allegiance: Dairycon
Name: Pretender MotorMaster
Function: Harbinger of the Apoclypse

Quote: "Crush Everyone!"

Profile:
A crushing terror that destroys all in his path, Pretender Motormaster is the ultimate Dairycon warrior - or in theory at least, should be. For underneath his thick-plated hide is a mind wracked by incomprehensible rage. Having finally echewed the need for his former Stunticon underlings, Motormaster was promoted to second in command of the Decepticon forces by MegaZarak. A chance encounter with The Last Dairycon brought him to an alternate universe, where he was almost destroyed. Only the chance intervention of his universe's matrix and a discarded pretender shell saved him. A warrior reborn, he seeks nothing more than the destruction of the Last Dairycon, and a return to his own universe. Of course, if he has to destroy the rest of the Transformers Universe first, so be it.

Abilities:
Pretender Motormaster has tremendous strength - he can punch with a force of 140 tons. His armor is nearly impervious to even the most powerful artillery. He uses his infamous cyclone gun to blow through most barriers and the power of his universes 'dark matrix' to crumble whatever's left.

Weaknesses:
Motormaster's inexplicable psychosis is a severe handicap to his successful operation. Though immensely powerful, he can be defeated with enough time and effort. Inner robot, while more powerful than his previous combiner form, is more delicate then the shell and thus suseptible to damage.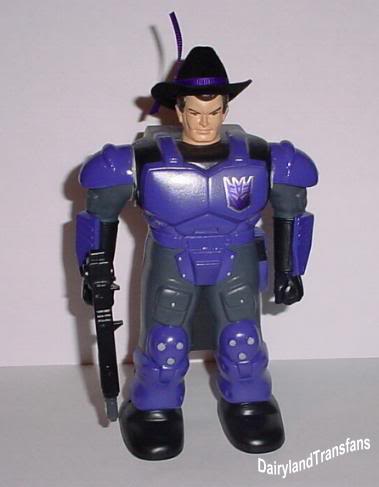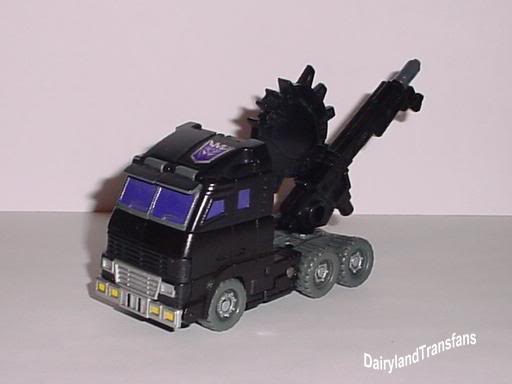 Outer Shell | Inner Robot(bot) | Inner Robot (Vehicle) | boxed | back of box | HeloMoto


Notes: Would you believe that Pretender MotorMaster is the natural evolution of Ballerina Motormaster?

Admit it. This is the coolest thing ever. :-) Obviously, 'Motormaster' and 'Decepticon' belong to Hasbro, etc, this is merely for parody purposes, etc, etc. Pretender MotorMaster was the Limited Raffle Exclusive only available at Dairycon 2009. Only 10 were made available at the convention. If you think this is great, you should read the Pretender saga, where it's revealed that.... oh, but I've already said too-much. ;-)