Allegiance: Evil Decepticon
Name: Action Master Ravage
Function: Information Broker

Quote: "All that's left of me, is what I pretend to be."

Profile:
Once a loyal Decepticon soldier, and later an agent of Tripredacus Council, RAVAGE had the misfortune to try to double-cross a stalwart team of Maximals stranded on prehistoric Earth. Seemingly damaged beyond repair and stuck in stasis-lock, he now finds himself shuffled from one alternate timeline to another as various evil leaders attempt to decipher the information encoded in his memory banks. Now, he has fallen into the hands of The Leader...will his knowledge of the future lead to victory, or defeat?

Abilities:
As a stasis-locked cassette tape, RAVAGE has no physical abilities beyond those granted by his form. However, if placed into the tape player of a compatible mechanical device (Transformer or otherwise), he can assume complete control of his new body including whatever innate abilities it may possess. He possesses knowledge of at least one future timeline, and can use this to twist events to his benefit. Rumored to be pre-loaded with an ancient hate plague virus.

Weaknesses:
If seperated from a compatible body, he is completely helpless. His information storage medium is particularly vulnerable to strong magnetic fields.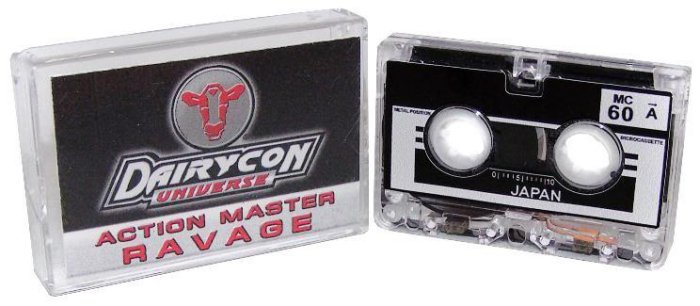 Action Master Ravage - 6 Super Versions!


(Note: Dairycon 2011 Exclusive!)