Allegiance: Dairycon
Name: Cosmoo
Function:Moocher

Quote: "Can I borrow 5 bucks? I'll pay you back... honest!"

Profile:
Truly a waste of good dairy air. Cosmoo is the biggest moocher what roams the fields of Dairyland. Always borrowing money, weapons, energon, tools, grills, silverware, CDs, lawn chairs, etc and never returns them. No one knows where he actually lives in Dairyland, because he is always living off someone else. He shows up at all the Dairyland parties and functions, eats everything up, and leaves.

Abilities:
Able to talk anybody out of anything. Excellent con man with great negotiation skills. He has heff-mounted weapons that he never paid for. Rumor is that they are aftermarket knock offs. Excellent poker player and fish cook.

Weaknesses:
Due to lazy life style and over consumption, he has put on a lot of weight. Behind on his rent, credit card payments, and owes everyone in Dairyland something. His short, portly, inactive physique makes him produce excessive amounts of menthane, causing a bad body odor. Allies and adversaries alike keep their distance. Bad dresser. Since he has lived off the Dairyland's public dole, he has no actual experience with anything. He likes getting together with Steers and Heffer, and tell big lies about how good he used to be.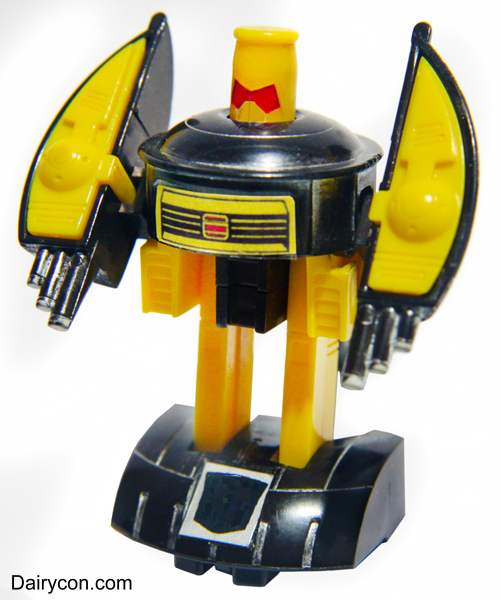 Alt Mode | Alt Mode (Dairy-aire) | In-Package | Prototype Version