Dairycon 2022 Acc Packs: Meet the ConCons!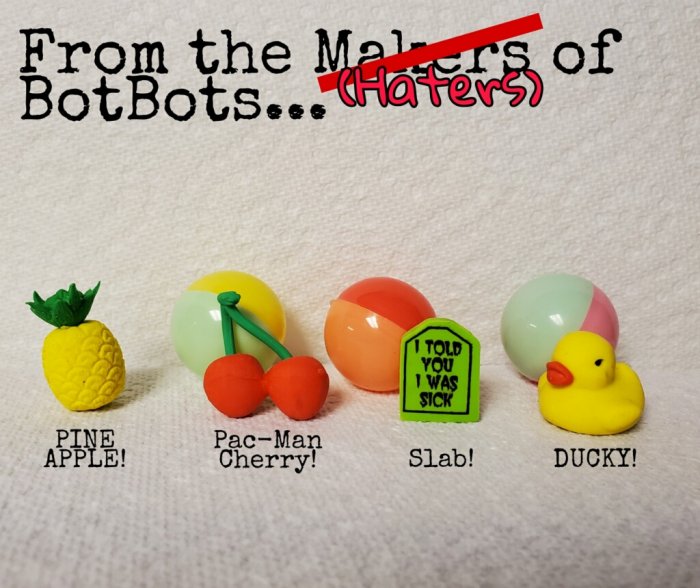 Ducky: Foul mouth! The affected bot's language center becomes so insulting, the other bots would rather retreat than continue to listen to the garbage being said.

Cherry: Gives any given bot laser eyes. But, the cherry attaches itself to the users arm. And the power up ends when something pops the cherry.

Grape: Rage strength! "Do not make fun of me for liking the cheapest flavor!!!!" Turns animal-based Transformers into Grape Ape, regardless of mode.

Rubber Chicken: Slapstick! User becomes the funniest 'bot this side of Iacon. Useful as a distraction. Enemies doubled over with laughter, so you can make your escape.

Pineapple: Nullification! Cancels most power-ups, but leaves acid damage when used.

Gravestone: Necromancy! Allows you to raise a sparkless army to defend you. Attack enemies with your robot zombies!

TeddyBear: Love! Flips the Allegiance of one enemy and brings them to your side. Nullify with Pineapple.

Hamburger: Speed! Consume this goody and you will become a Blurr to your enemy. Unable to be used by 'bots with a faceplate.

Sandwich: Pax Cybertonia! Instantly resolves differences and makes peace with the enemy. Sacrifices user's life to activate. They'll make a statue in your honor.