Allegiance: Junkion
Name: HUFFLEPUFF
Function: Scavenger

Quote: "You're a Wizard, Harry!"

Profile:
HufflePuff is screwed up even by Junkion standards. Most Junkions trend toward good or at least neutral deeds, but HufflePuff seems actively evil. As a main supplier to PIRATE PETE, HufflePuff borrows or steals from still-active installations, reducing them to scrap she can sell to others. Like her fellow Junkions, HufflePuff mostly speaks in clips from old human television broadcasts; this pattern of speech lacks context for other, non-Cybertronian races. Her regard for humans does not extend to their safety, however, as many a human has been stranded in space when their ship has been scuttled.

Abilities:
Like other Junkions, HufflePuff is seemingly immortal; when a part falls off, she can simply graft another one on and keep motoring. Vehicle mode has spacious hauling capacity and rich leather interior. Outside is barely distinguisable from her home planet, creating effective camoflage. Sensor package allows her to find the best bits to salvage and sell.

Weaknesses:
Fellow Junkions actively avoid her; they do not understand what hold PIRATE PETE has over her; "She's way over her 40 million mile warranty - insane in the membrane." Tearing into EDC installations often gets her into more trouble than she can handle.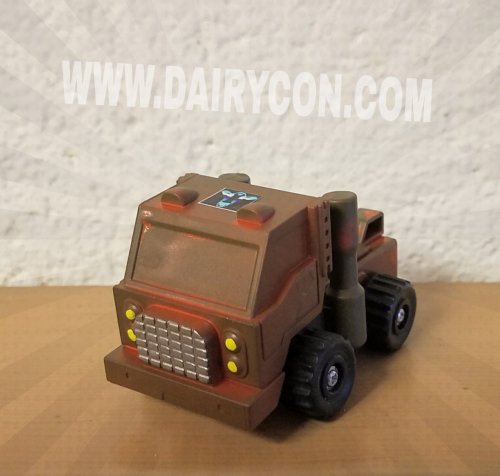 Robot Mode | In Package