DAIRYCON SECOND UPGRADE KIT REVEALED!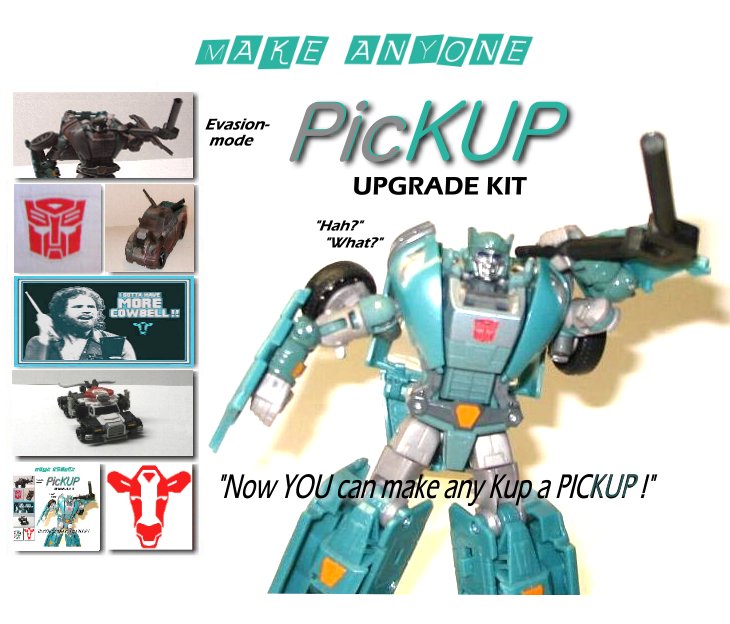 For immediate Release - Staffers today revealed an image of the SECOND Upgrade Kit for DAIRYCON 2015 - The EVASION MODE PICKUP Upgrade Kit! Making fun of the numerous 'upgrade' kits that have been used to 'Prop up' aging and ineffective toys, (and at ridiculous cost) Dairycon will be *giving* away another upgrade kit at their show!

Although winners of the Ultimate Prize Giveaway will have a chance to get their own Evasion Mode PicKup with *all* the accessories, this Upgrade kit is an opportunity to get part of the upgrade kit itself for their own figure!

"Attendees will have a chance to acquire one of these kits by attending the show," we were told. "Using the parts in this kit will allow you to 'prop up' your aging Kup by giving him something useful - a Hearing Aid." Well, they're *calling it* a 'hearing aid,' but we saw a few PicKups posed with it looking like a walking stick, and some kind of water pipe, so draw your own conclusions smile emoticon

The MAKE ANYONE PICKUP Upgrade Kit is available *only* by attending DAIRYCON 2015! Register today!